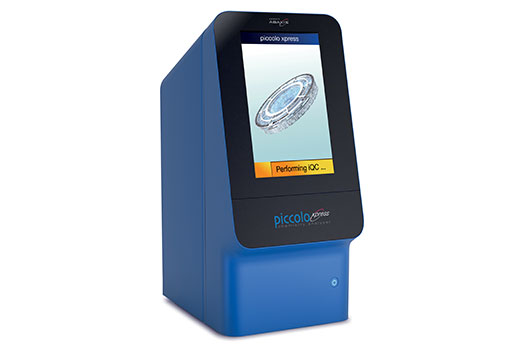 Il gold standard in chimica clinica in PoCT.
Piccolo Xpress® offre risultati diagnostici in tempo reale per la pianificazione immediata del trattamento del paziente
The Point of Care Testing represents today the most suitable organizational solution for a correct and effective decentralized diagnostics, with the constant control of the Analytical Quality by the Analysis Laboratory.
Piccolo Xpress® is a small size analyzer with high precision, reliability and reproducibility. Piccolo Xpress® provides real-time blood chemistry diagnostic information for healthcare professionals and their patients.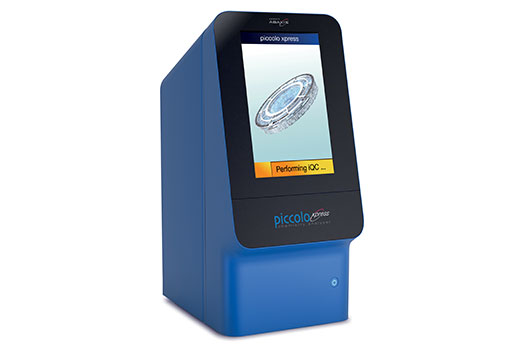 Features
Sampling from a capped primary tube, using a dedicated device
Reduced sample volume for testing (100μL approx.)
Cutting-edge technology created for use by NASA on a mission
Multi-parameter disposable rotors, profile testing and integrated Quality Control (iQC)
Automatic execution of the serum indices: icteric, lipemic and haemolytic
Precision and accuracy from Laboratory Analysis, thanks to the use of the same methods in the liquid phase
Ethernet socket for transfer to HIS / LIS
Maintenance free, operator-independent analytical system
Small size, transportable thanks to the comfortable handle
Barcode reader for positive patient identification
Integrated printer
Piccolo Xpress® is an automatic, compact and easy to use analyzer for clinical chemistry, electrolyte and C reactive protein determinations. The analyzer is capable of using a minimal amount of whole blood, serum or plasma for the entire analytical panel.
The Piccolo Xpress® chemistry menu is the largest of any Point of Care analyzer, with 31 clinical chemistry tests spread across 16 comprehensive panels, including the only comprehensive metabolic panel.