The Point of Care Testing represents today the most suitable organizational solution for a correct and effective decentralized diagnostics, with the constant control of the Analytical Quality by the Analysis Laboratory.

Aidian's QuikRead go, Point of Care's next-generation system, is designed to support diagnosis and treatment management in various types of healthcare facilities. Its ease of use and fast, reliable results make the system a valuable tool for everyday use.
Thanks to its small size and the presence of an integrated battery, it can be easily transported to optimize its use.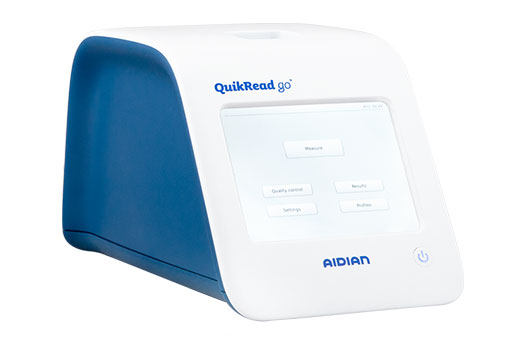 Features
Available tests: easy CRP, go CRP, go GRP + Hb, go wrCRP, go wrCRP + Hb, go HbA1c, go Strep A and go iFOBT
Highly reliable and quality results
Automatic reagent mixing
Result time: 2 to 6 min depending on the test
Positive identification of the sample by means of a barcode reader
Possibility to manage the identification of the operator
Ready to use, easy to use suitable for any healthcare professional
Touch screen interface, tutorial for use
Automatic archiving of results
Management of quality controls with the possibility of blocking
Small size: (WxHxD) 27 x 14.5 x 15.5 cm
Weight: 1.7 Kg
Equipped with handle to facilitate transport
Equipped with integrated battery
N.3 USB and Ethernet socket for HIS / LIS connection
Connectivity: ASTM, PoCT1-A2 (bidirectional)
Possibility of printing
QuikRead go is a compact and automatic instrument that uses dedicated reagents for qualitative and quantitative determinations of the available parameters: Easy CRP (Reactive Protein C with integrated capillary sampler), Glycated Hemoglobin (HbA1c), CRP (Reactive Protein C with capillary for manual dispensing) , Wide-linearity CRP, High-linearity CRP + Hemoglobin, CRP + Hemoglobin, Strep A, Occult blood for QuikRead go.
The QuikRead go system, consisting of the instrument and ready-to-use kits, is designed for primary healthcare facilities and departments (NICU and Pediatrics).