The Point of Care Testing represents today the most suitable organizational solution for a correct and effective decentralized diagnostics, with the constant control of the Analytical Quality by the Analysis Laboratory.
Urilyzer® 100 Pro is a semi-automatic urine test strip analyzer. The system adopts state-of-the-art QC and can manage operator identification as well as being able to connect to the laboratory's IT systems to meet the growing demands for compliance management and data acquisition. Urilyzer 100 Pro packs all the POCT features and is unique in its category.
The DOAC Dipstick (TM) is the first point-of-care testing system that can reliably and accurately detect whether a patient has taken direct oral anticoagulants (DOACs), e.g. in intensive care settings where every minute counts.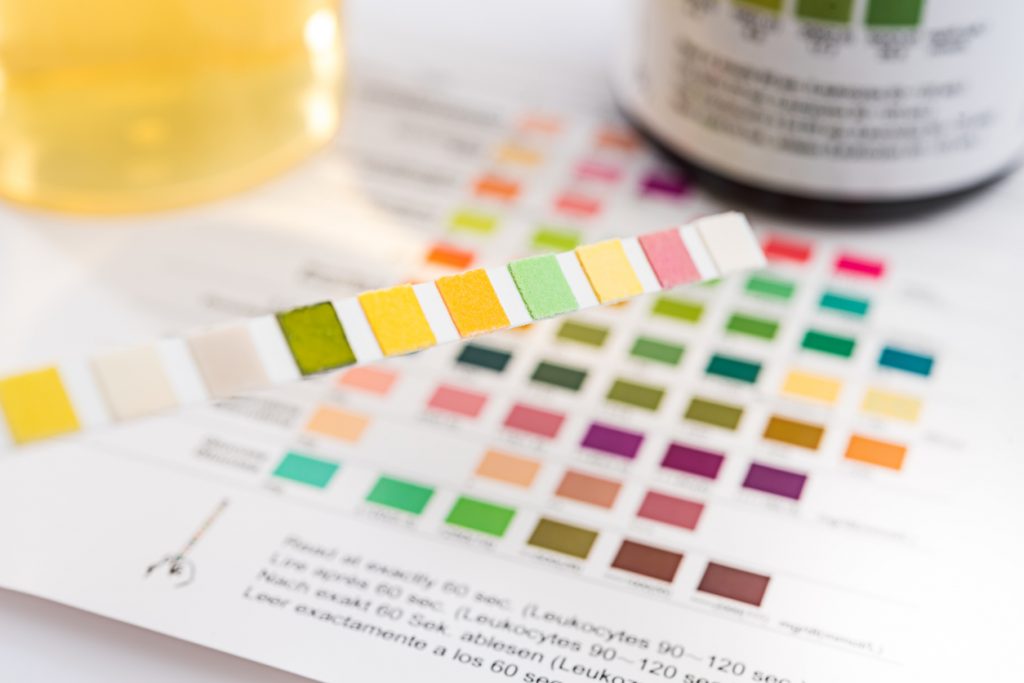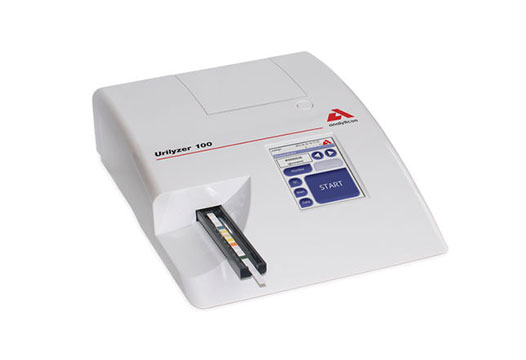 Features
Semi-automatic instrument for urine

N.11 Parameters: Bilirubin, Urobilinogen, Ketones, Ascorbic Acid, Glucose, Protein (Albumin), Blood (Hemoglobin), pH, Nitrite, Leucocytes, Specific Gravity

N.7 Parameters: Ketones, Glucose, Protein (Albumin), Blood (Hemoglobin), Nitrite, Leucocytes, pH

N. 5 Parameters: Glucose, Protein (Albumin), Blood (Hemoglobin), Nitrite, Leucocytes

mALB / CREA: Albumin, Creatinine

Simple to use

Fast and safe sampling

Up to 50 samples now

Connectivity: HL7, LIS2 (ASTM +), POCT1-A2

Small size: (WxHxD) 20.8 x 8 x 29 cm

Weight: 1.2 kg
Urilyzer 100 Pro with integrated printer is a small semi-automatic urine test reader that offers countless benefits and covers a wide range of tests. The user interface is intuitive and data entry is extremely simple.
Urilyzer 100 Pro allows the user a high level of customization with flexible testing and reporting options.
The intelligent database data management system allows the use of multiple selection filters and one of the most advanced connectivity levels on the market.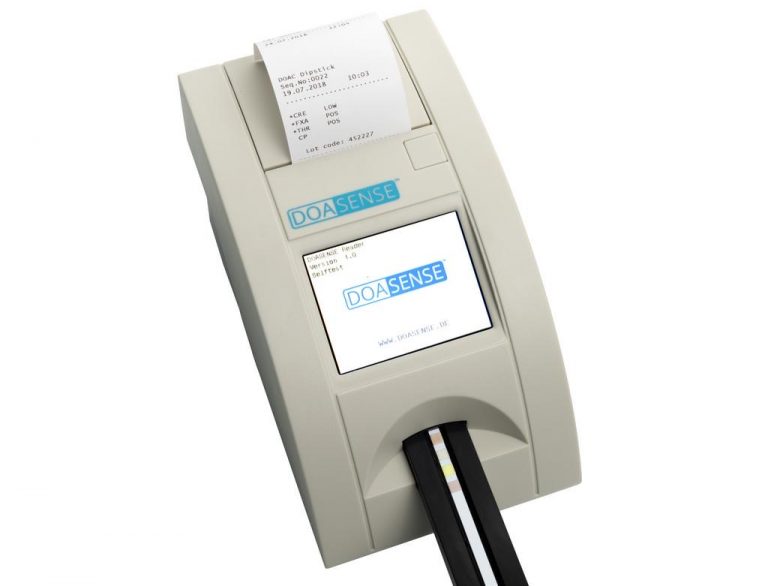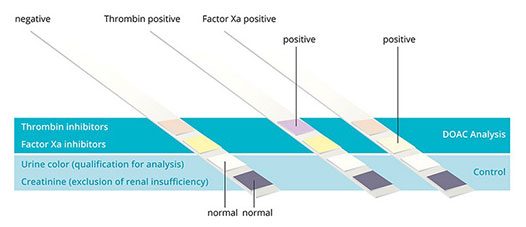 Colors arise from chemical reactions of the stick reagents with urine.
The results are obtained in 10 minutes and can be appreciated with the naked eye, identifying the colors of the stick or with the DOASENSE Reader (photometric reader).
The test allows to identify the absence or presence of:
Direct Thrombin Inhibitor (Dabigatran)

Direct factor Xa inhibitor (Apixaban, Edoxaban and Rivaroxaban)

Urine Color (Urine Color Control)

Creatinine (Control for renal insufficiency)
DOAC Dipstick is a urine diagnostic test strip intended for the qualitative detection of the absence or presence of direct oral anticoagulants (DOAC: Dabigatran, Apixaban, Edoxaban and Rivaroxaban) in human urine by visual color identification.
The DOAC Dipstick is an in vitro diagnostic test intended for professional use only.
It has received the CE mark and is registered with the Australian TGA.
A DOAC dipstick pack includes 12 tests (test strips).